What's new?
The new version can change the socks proxy of the IE and Firefox.
Quick Links
My IP Hide
If you only need to access blocked sites, please try My IP Hide. Here is the comparison between My IP Hide and Socks Proxy Checker.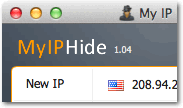 Affiliate Program
Earn money when a visitor comes from your website buys our product or service. You can get 30% commission on sales.
Start to earn now!
Socks Partner
Socks Proxy Checker 1.20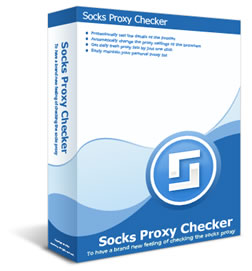 Socks proxy supports https and high anonymity naturally, so you can use socks proxy to access all (http/https) websites. Read more about how to use socks proxy.
In fact socks proxy is versatile proxy for all your Internet activities while the ordinary (http) proxy can only be used for surfing. You can use socks proxy to anonymously send email by SMTP, transfer file by FTP, chat by IM/IRC software and play online game.
Socks Proxy Checker (SPC) can check socks proxy for the details such as speed, version, country, region, city, smtp, and udp. It can find the best socks proxy for you. Try it now (2.8MB, Windows 10/8/7/Vista/XP). There is no time limit.



[registered users go here]
* You can easily download daily fresh socks proxy using SPC by just one click.
* Please read how to use socks proxy if you don't know how to use socks proxy.
Socks Proxy Checker Screen Shots
Socks Proxy Checker Professional
SPC professional version is more powerful than the free version. You can enjoy the full features of Socks Proxy Checker with the professional version.
We accept PayPal, Credit Card, and Bitcoin. Please goto the order page to select the payment method that you like.

Notice that SPC Pro doesn't include the socks proxy list service. If you need proxy list rather than the software, please buy socks proxy instead. Both SPC Free and SPC Pro can download socks proxy list from us.
Make sure you have read our Socks Proxy Checker Professional End User License Agreement before your purchase. If you have any problem about Socks Proxy Checker, please read the FAQs first. If you didn't find the answer, please post your problem in our forum or just contact us by email.