Quick Links
My IP Hide
If you only need to access blocked sites, please try My IP Hide. Here is the comparison between My IP Hide and Socks Proxy Checker.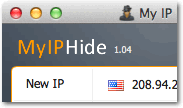 Affiliate Program
Earn money when a visitor comes from your website buys our product or service. You can get 30% commission on sales.
Start to earn now!
Socks Partner
Buy Socks Proxy Checker or List
You should decide whether to buy Socks Proxy Checker Professional (SPC Pro) or the Socks Proxy List. With SPC Pro you can test the advanced features of socks proxy. SPC Free only have the basic features but it is enough for most users. With our Socks Proxy List service you can download the daily proxy list by SPC Free or SPC Pro.
Buy Socks Proxy Checker Professional
We accept PayPal, Credit Card, and Bitcoin. Please goto the order page to select the payment method that you like.

Buy Socks Proxy List
* Premium socks proxy list is updated every minute to ensure it is 100% working. It is for the users who want to get working proxies quickly without testing a big list. Windows XP users may have problem checking proxies. The premium list is best for them.

You can use either Socks Proxy Checker free edition or professional edition to download the proxy list. Our socks proxy list is updated every hour while the premium list is updated every minute. Please refer to our buy socks proxy page to know the details of our socks proxy list.
Buy both SPC Pro and Socks Proxy
You can click the "Add to cart" button in the SPC Pro Purchase page to buy the socks proxy list along with SPC Pro. The socks proxy list is shown in the "Recommended additional products" column.