Quick Links
My IP Hide
If you only need to access blocked sites, please try My IP Hide. Here is the comparison between My IP Hide and Socks Proxy Checker.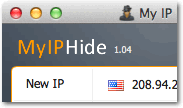 Affiliate Program
Earn money when a visitor comes from your website buys our product or service. You can get 30% commission on sales.
Start to earn now!
Socks Partner
FAQs about Socks Proxy Checker
Common FAQs about Didsoft Prducts & Services
FAQs about Socks Proxy Checker
What is socks proxy?
socks proxy
is versatile proxy for all usage while the http proxy can only be used for surfing. You can use
socks proxy
to send email, transfer file, chat online, play game as well as surf website. Here is an article about
socks proxy
and http proxy.
How to use socks proxy?
Is socks proxy anonymous?
Yes. All the socks proxies are anonymous while
http proxies
can be anonymous or transparent.
How can I test whether my real IP is hidden by socks proxy?
Does socks proxy support https?
What is the version of socks proxy?
There are two versions of
socks proxy
: version 4 and 5, as known as Socks4 and Socks5. Socks5 supports UDP (
Skype
needs it), name resolution and authentication while Socks4 not. However in most cases either Socks4 or Socks5 is OK.
What is the SMTP feature of socks proxy?
If a socks proxy supports smtp, you can use it to send emails. SMTP stands for Simple Mail Tranfer Protocol.
What is the gateway feature of socks proxy?
If you are using a gateway proxy (eg. 22.33.44.55), it won't access the websites directly, it connects to another proxy (eg. 22.33.44.1) and then use that proxy to fetch the web pages for you. The web server will think your IP is 22.33.44.1, while you expect it to be 22.33.44.55.
If you want to be identified as two IP by the server, you should not use the gateway proxies. However it makes no difference if you only want to surf anonymously. Here is an example of gateway proxies.
What is the danger feature of socks proxy?
Some socks proxy servers are owned by government organizations such as FBI, CIA, NASA and Army. Your activity on those proxies is usually monitored and logged. Hackers call those socks proxies "dangerous" socks proxy.
What is the udp feature of socks5 proxy?
UDP (User Datagram Protocol) is a simpler and faster protocol than TCP (Transmission Control Protocol) but it's unreliable so it's usually used for transferring voice and video, not file. Only socks5 proxy supports UDP.
What is Google proxy?
Proxies that support searching on Google are called Google proxy. Some programs need them to make large number of queries on Google. View details about
Google proxy
on our blog.
Why Socks Proxy Checker works slow when testing socks proxylist?
Windows XP & Vista limit the maximal TCP connection to 10 for safety. But you can only test 10 proxies simultaneously, which makes the testing process extremely long. You can use
this patch
to modify your maximal TCP connection number. After patching, you can set the threads to 24, which can make the testing process much faster.
What is SSL/HTTPS?
SSL provides a secure channel for your computer to talk to a secure website (such as PayPal and Craigslist) whose url starts with "https://" rather than the usual "http://". socks proxy supports SSL/HTTPS.
Common FAQs about Didsoft Prducts & Service
Why should I use proxies?
Anonymous proxies can hide your real IP, so your online security and privacy is protected. Moreover, you can use a proxy to access blocked websites if the website administrator rejects your IP or your network administrator blocks that website.
How can I get fresh proxy lists?
What to do if I didn't receive the purchase confirm email?
If you didn't receive the email that contains the login information, please check the spam box of your email account or
contact us
as soon as possible, giving us your other email addresses (yahoo, gmail or hotmail is OK) that can receive emails from us.
If I have problems about my purchase, what should I do?
Please
contact us
as soon as possible, giving us your order information (email, name, order id and purchased product or service) and the problem you encountered.
What should I do if I still have problems after reading the FAQs?
FAQs about Socks Proxy Checker
Common FAQs about Didsoft Prducts & Services